Japanese Purchase of American Bonds Drives Value of Yen Even Lower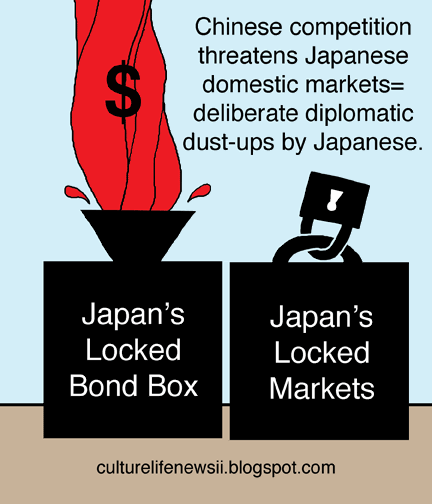 By Elaine Meinel Supkis
Japan's stockmarket is up, their trade surplus with America is up, they are opening more assembly plants in America to keep their customer base quiet while they carefully exclude American products from Japan. The exchange rate is again becoming so stupid that it pays Japanese to go to America to buy Japanese goods. This impossible situation is even worse today with the yen falling rapidly in value despite the obvious economic imbalances in Japan's favor.
From Yahoo:
Japanese stocks opened higher Monday following gains on Wall Street last week. The dollar was up.

The Nikkei 225 index rose 63.29 points, or 0.43 percent, to 14,847.58 points on the Tokyo Stock Exchange shortly after the open. The index on Friday gained 41.71 points, or 0.28 percent, to finish at 14,784.29, its highest since December 2000, marking seven straight sessions of gains.

The broader TOPIX index was up 5.48 points, or 0.36 percent, at 1,535.15 points early Monday.

Technology and exporter blue chips were mostly higher, with major banks narrowly mixed.
Duh. Exporter stocks are the key here. They export mostly finished products. If they have factories in America, they export all the parts and such and can squeak under the auto export thresholds. Also, thanks to the collapse of our unions, American labor is becoming cheaper and cheaper.
Wall Street ended with moderate gains Friday, extending a November rally in light post-Thanksgiving trading amid signs of a decent start to the busy holiday shopping season. The Dow Jones industrial average gained 15.53, or 0.14 percent, to 10,931.62, and the Nasdaq composite index rose 3.03, or 0.13 percent, to 2,263.01.

In currency trading, the dollar was trading at 119.73 yen on the Tokyo foreign exchange market early Monday, up 0.11 yen from late Friday in New York. The euro fell to $1.1703 from $1.1713 late Friday in New York.
First, the big sales day that boosted stocks was a fake enterprise. Call it Potemkin Shopping Spree, they practically gave away all sorts of stuff....Much of it made in China or Japan! It didn't help our manufacturing base at all nor did it bode well for our terrible trade deficit. It points to seriously bad future problems.
The dollar/yen mess worsens. The Japanese will not let go of our economic throats, they will debase their currency and run up prices at home rather than cut on export power. Under Clinton, we forced the yen to a more realistic 100 yen to the dollar but they are busy returning it to the hacylon days of 130 yen to the dollar. Already, we are pushing on 120 yen to the dollar.
I remember four years ago when the trade deficit was half of what it is today, Bush and his Treasury agents were boasting they would cut it in half by dropping the value of the dollar vis a vis the yen so 95 yen buys a dollar. Instead, thanks to our budget deficit, we have to send trillions to Japan to be isolated from the financial markets. Because of this, the Japanese yen becomes cheaper and cheaper.
From Nouriel Roubini and David Backus' Macroeconomics lectures:

The Classical theory of exchange rates is basically the quantity theory of money and the theory of purchasing power parity, or PPP, which we looked at in Chapter 3 of these lectures. The first ingredient is the quantity theory, which tells us that prices of goods reflect stocks of money:

P = MV/Y

Pf = Mf Vf /Yf
The "f" stands for "fucked".
Here is an older article about our nearly invisible car sales in Japan:
From Auto News:
Here we go again. It seems like I'm frequently cast in the role, or rather cast myself because no one else is doing it, of trashing conventional wisdom. Especially as it applies to matters automotive. Let's take the common belief that you can't give away American cars in Japan. This wisdom, usually passed on to journalists by Japanese auto companies or government officials, holds that (1) American quality is unacceptable to Japanese customers, (2) Americans are really stupid to think Japanese would buy left-hand drive cars in a right-hand-drive autoscape, (3) American cars are too overpriced by the time they are homologated to meet Japanese regulations and (4) they are just too big for narrow Japanese streets not to mention the necessity of having a parking space where land is precious. I have heard myself that the only Japanese who would dare to drive an American car is a gangster, a racketeer. Everyone looks down upon them as the dregs of society, so no respectable Japanese would think of driving an American car and having their neighbors and relatives think they were low-lifes. Indeed, the new-car sales statistics reported by Chrysler, Ford, and GM cars in Japan are so close to zilch that no one even bothers to question this conventional wisdom.
This is insanity. At no point did our government lay down the law of "free trade" to force open Japanese markets this time around. Perry had to go in with ships and threaten them to get them to open in the past and this should have happened recently but instead, Reagan was bargaining FOR the Japanese and Bush is too, it appears!
The attacks on China from Tokyo that Bush indulged in were due entirely to the Japanese who fear the Chinese market prying open their squirrely system they built up to exclude ganjin. The Chinese are so much cheaper, the Japanese rulers decided to risk alienating an important market in order to keep the system intact. So they raised the volume of anti-chinese rhetoric and kicked the Chinese repeatedly in the shins to rouse them into anti-japanese riots and voila!
They won't see any Chinese stores open in Japan, will they? The Japanese people will continue to live rather miserable lives, supporting the present system, locking out all foreigners if possible.
Here is more bad news for us and proof our trading partners are shafting us over "free trade":
From the Progressive Policy Institute:
In 2004, the world's automobile plants produced about 64 million cars, of which 11.6 million were made in the United States. Americans imported 8 million more cars -- 3 million from Japan, 2 million from Canada, 1 million from Europe, 900,000 from Korea, and 650,000 from Mexico -- and exported 1.4 million. This year's total should be considerably higher. Sales to Britain, Germany, and Japan seem to have dropped in the first six months of 2005, but exports to most other major markets -- Canada, Mexico, South America, the Middle East, China -- are all growing fast. There is a strong case, though, that (with the possible exception of China) sub-Saharan Africa is America's fastest-growing auto export market.

American car sales to Africa have nearly quadrupled since the turn of the century, from under 7,400 in 2000, to over 27,000 last year. Based on early results for 2005, Africans may buy 50,000 American-made cars this year. Africa is already well ahead of ASEAN and South America as an American auto export market, and could conceivably place above East Asia this year. (China, Hong Kong, Japan, Korea, Macao, Mongolia, and Taiwan combined to buy about 40,600 American cars last year, and sales seem likely to end 2005 between 50,000 and 60,000.) Africa is a smaller market for parts, but a fast-growing one, likely to approach $100 million worth of brakes, shock absorbers, gear-boxes, bumpers, and miscellaneous parts this year.
Isn't that cute? Africa produces no export cars. The big car exporting countries of Asia don't buy our cars. All the stories about why are hogwash. They always managed to not buy cars from us once they start exporting. Since China is following Japan's style of business, it is no wonder the numbers there are becoming as miserable as in Japan. The stats here make Japan look better than it really is because it is lumped in with China who still buy our cars and trucks.
Here is a good site concerning Japanese sales hurdles designed to exclude or exhaust competitors:
From JAMA:
But last year's slowdown in the Japanese economy exposed the weak strategic position of the American manufacturers for all to see. Sales of U.S.-made vehicles dropped nearly 18% and were off even more sharply in the first quarter of 1998. This has once again raised the specter of potentially divisive and economically damaging trade disputes, as U.S. government officials and executives blame Japan for the decline. This study — based on an in-depth analysis of the Japanese distribution system and extensive interviews with auto dealers and industry executives in Japan — shows this would be a mistaken course for America. Specifically the study reveals that:
The following is all the usual stuff about how we failed one way or another but note the date!
This is when Clinton balanced our budget, the need for the Japanese money hole disappeared! So suddenly, Japanese didn't want to buy our stuff even though the yen was getting stronger and stronger vis a vis the dollar. Note too that this is when Greenspan decided to raise interest rates, too. The Japanese were supposedly mired in a depression even though their currency was getting stronger and stronger vis a vis the dollar. Obviously, they were in trouble since their entire premise for existing is to undercut American industry!
Now, all that is fixed, their economy is sailing along happily, we are hemmoraging red ink all over the place, losing factories, the Japanese are happily building more factories in America as they take over our entire auto industry. Bonzai!
To return to homepage click here
To read more financial news click here