Bush Celebrates Handing Power in Bagdad Over to Sadr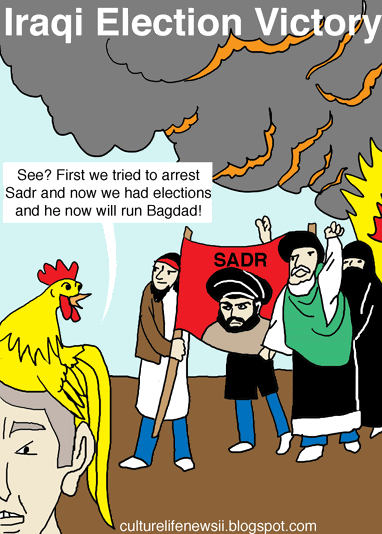 By Elaine Meinel Supkis
Once again, the American media and Bush celebrate drunkenly over events that presage disaster. This latest stupidity concerns the election in Iraq. Seems we just handed over Bagdad to Sadr and his merry band of religious lunatics! Way to go! Alarmed Iraqis cry foul but it won't work since Sadr won power via an election. Next: the civil war explodes in our face.
From Yahoo:
Sunni Arabs alleged Tuesday that last week's parliamentary elections were fraudulent, especially in Baghdad province, and they said if the irregularities are not corrected, new balloting must be held in Iraq's largest electoral district.

An electoral commission official said that while more than 1,000 complaints from the Dec. 15 vote had been received and were being investigated, only 20 were "very serious," and he didn't expect them to change the overall result, which will be announced in early January.

The United Iraqi Alliance — a Shiite party — won about 59 percent of the vote, according to returns from 89 percent of ballot boxes counted in Baghdad province. The Sunni Arab Iraqi Accordance Front received about 19 percent, and the Iraqi National List headed by Ayad Allawi, a secular-minded Shiite, got about 14 percent.

The Iraqi Accordance Front, a coalition of three major Sunni groups, rejected those results, warning of "grave repercussions on security and political stability" if the mistakes were not corrected.
Anyone who thinks the election in Iraq was the light at the end of the tunnel is stark raving mad. Even if Sadr and his militia can impose order on Bagdad, this won't mean we can pump all that oil in peace and leave Iraqis nothing. After all, they are in a close alliance with Iran next door who has gone bonkers, too.
If the Jews running Israel think this war is going to make them safe, they are bonkers, too.
So now instead of Saddam menacing Iran we have Iraq and Iran as one major nation with lots of oil who hate our guts and want to see us destroyed.
This is why Bush must be impeached. Not because he is a lying coward who spies on Americans who are peaceful and breaking no laws, he has not only allowed Atta and his gang unhindered passage to destroy parts of America and now he is setting up things so a tidalwave of America haters can now fight us! Every day he remains in power, he and Cheney and the GOP, we get closer to destruction.
From Yahoo:About 24 top former officials in Saddam Hussein's regime, including a biological weapons expert known as "Dr. Germ," have been released from jail, while a militant group released a video Monday of the purported killing of an American hostage.

The first results of Thursday's parliamentary election were released, with officials saying the Shiite religious bloc, the United Iraqi Alliance, got about 58 percent of the votes from 89 percent of ballot boxes counted in Baghdad province.

Across Iraq, meanwhile, demonstrations broke out to protest a government decision to raise the price of gasoline, heating and cooking fuel, and the oil minister threatened to resign over the development.
Gads. Are we insane or what? Not only are we pumping the oil, we want them to pay world prices for their own stuff from their own country! While living on third world wages! Exactly like Nigeria which is doing the same thing and contending daily with near riot conditions.

The trial of Saddam is collapsing just as I predicted a year ago. The release of these people shows that trying to try them for, say, wanting anthrax is insane since our own government refuses to even try to find our very real and very American anthrax murderer who is pretty high in the military/secret research accessibility complex. Only a tiny handful of people could have gotten and used the anthrax and of course, there is absolutely NO dragnet to find them. From the President on down, all who have access to this stuff should have been interrogated (heh, at Gitmo!) and examined.

But they weren't and so we can't prosecute them for thinking about using what someone here in America actually did use.

Here is a review of the not so distant past: From China Daily:

Updated: 2004-04-06 13:48

US civil administrator in Iraq Paul Bremer on Monday declared Iraqi Shiite cleric Muqtada al-Sadr as an "outlaw."

A bunch of Marines died trying to capture Sadr. Now we hand over the keys to the Iraqi National Government to him. Here is what he did us last year:

Although he is criticized by many people as too young, radical and inexperienced to lead, al-Sadr has gained support from the young seminary students and unemployed people. He advocated the application of strict Islamic law in Iraq.

Al-Sadr was firmly opposed to the presence of US troops in Iraq. He called on Shiite spiritual leaders to play an active role in shaping Iraq's political future.

Last June, al-Sadr established the Al-Mahdi's Army in spite of military control by the coalition forces.

He was held responsible for the assassination of Abdul Majid al- Khoei, a moderate Shiite leader who was stabbed to death by a mob at a Shiite shrine in the city of Najaf last April. An arrest warrant has been issued against him for murder.

Violent clashes broke out Sunday between al-Sadr's supporters and the US forces, leaving eight US soldiers and at least 28 Iraqis killed.

The events were ignited by the decision of the coalition provisional authority to close the Hawza newspaper that speaks for Sadr and the arrest of one of his top aides, Shaikh Mustafa Al Yaaqubi, last month.

This is a stunning reversal of all we wanted. This shows that the deaths of so many Americans and Iraqis was stupid. We have no idea of what we are doing, where we are going or what will happen next.

We only have hopes that oil will become very cheap again and we can continue to suck it down without hinderance and live riotous lives, goofing off and laughing ourselves silly.

This desire won't happen because the historic forces are gathering against us and will overwhelm us. Like the hurricanes, instead of doing sane things in preparation, we are throwing parties and hoping the storm will swerve at the last minute. There is nearly no time left to withdraw our troops and just leave this mess. We will stubbornly stay and force events. The day the last helicopter leaves from the roof of the last of Saddam's palaces, as he triumphantly drives us out or the Shiites shove us out, we will lust for victory.

The victory of fools. And like with Nam, we will make movies where we beat up the little brown people and strut around, chest out, snarling, "We're Number One!" Next: the bad news about our industrial base.

To return to homepage click here
To read more breaking news click here